To access our
Children's Resources scroll to bottom of this page
++++++++++++

++++++++++++
2021 CONFIRMATION CANDIDATE SAINT POSTERS DUE MONDAY, OCT. 26th
++++++++++++

++++++++++++
Director of Religious Education: Donna Sciacca  Email: prep@stjohnsottsville.org  ph. 610-847-5521  
          2020-2021 PREP SCHOOL YEAR   ~  Serving Grade Levels 1st – 7th                            Our online instructional program this year will employ alternating weeks with the use of Print media: Textbooks & Activity Pages, followed the next week by a ZOOM class session.              Email Lesson Week: Catechists will email your child's lesson on or before Tuesdays at 12noon. ZOOM Class Week: Catechists will email you the ZOOM class link by the end of the prior week.
Week of Oct. 26 & 27: ZOOM Class Session (review of 10/19 & 20 textbook assignment).
ZOOM Class Session Start Times:                                                              1st grade: Tues. 6:15pm                                                                          2nd grade: Mon. 6:30pm                                                                          3rd grade: Mon. 6:30pm                                                                          4th grade: Tues. 6:30pm                                                                          5th grade: Tues. 6:30pm                                                                          6th grade: Mon. 6:30pm                                                                          7th grade: Tues. 6:30pm
Your child will be responsible to complete the assigned chapter work prior to receipt of the following week's ZOOM class session.  Your child should have a separate composition book in which to keep their notes, questions, and affix assigned Activity Pages for review during the following week's Zoom class.
When a Chapter Quiz or Unit Test is assigned, it should be completed, scanned and emailed back to the Catechist by 12 noon on Friday of the week in which it was received.
It is essential that your child stay on task and not fall behind which is easy to do with distant learning. If this should occur, please contact me as soon as possible. I will work with you and your child to assure they are caught up and don't fall too far behind.
PREP PARENT CURRICULUM LINKS: 
For Grade Levels 1 – 6:
"Faith & Life Series" Parish Edition https://www.ignatius.com/promotions/faithandlife/downloads.htm#ParRes
Sacrament Supplemental Curriculum Grade Level 2:
"Blessed" First Eucharist, and First Holy Communion https://dynamiccatholic.com/blessed/program-view
Scroll down to the bottom half of the page where you may click on the Session number your child is to read/watch. The text book is verbatim to the video. This is a program you too will enjoy as you help your child prepare for their Sacrament.
For Grade Level 7:
"Confirmed in the Spirit" Loyola Press
https://www.loyolapress.com/faith-formation/sacramental-preparation/confirmed-in-the-spirit/parents-and-students/resources/resources/resource-grade
Catechism of the Catholic Church, 2nd Ed.          http://ccc.usccb.org/flipbooks/catechism/index.html   
+++++++++++
If you have a child entering the 1st Grade in September, please call our office to Register them in our Parish Religious Education Program. 
If you are a new family in our parish community and have children in 1st – 7th grade, please contact Donna Sciacca, DRE at the parish office to enroll in our parish religious education program.
Scroll down to access downloads of our school year Calendar, Registration forms, Parent Handbook.
To register your child, print, complete and return the Registration Form along with your payment to the attention of Donna Sciacca, DRE at the Parish Office.
2020-2021 PREP Calendar_2 Sided
2020-2021 PREP MATERIAL FEES FLYER
2020-2021 New Student PREP Enrollment Form
2020-2021_Returning Student Registration Form                                                             
PREP FAMILY HANDBOOK_Updated Aug2020
Parental Consent Form_ZOOM virtual PREP Class
PARISH RELIGIOUS EDUCATION PROGRAM (PREP)
MISSION STATEMENT
"THEY WILL KNOW WE ARE CHRISTIANS BY OUR LOVE"
GOD IS LOVE! He created us from love, to love. We are all created in the image and likeness of God, believing this, the mission of St. John's Parish Religious Education Program is to Teach, Proclaim, and Witness to the children, teens and adults of our parish on the new life of Salvation that Jesus won for us on the Cross.
We teach about the need to build a personal relationship with the True Person of Jesus Christ, and strive to instill within their hearts and minds a deep love for the Real Presence of Jesus in the Sacrament of the Eucharist and the healing power of forgiveness through the Sacrament of Reconciliation.
We Proclaim the Good News and nurture a deep seeded thirst for Truth known by the study of our Catholic Faith revealed through Scripture and Tradition.
We Witness to the power of prayer, the grace and inspiration of the Holy Spirit given freely to us through the Sacrament of Confirmation, and the joy in service to those in need.
Every Day, in Every Class, with Every Student, there is an Encounter with Christ.
Teaching and forming disciples!
---
SACRAMENT REQUIREMENTS: Two years of preparation in a formal religious education program are required by our parish for the reception of the Sacraments of Initiation which are…. First Reconciliation; First Holy Communion and Confirmation.
The Sacraments of First Reconciliation and First Holy Communion received in 2nd grade. Guidelines put forth by the Archdiocese of Philadelphia concerning baptized children receiving sacraments for the first time specifies that the Sacrament of Reconciliation be received prior to First Eucharist.  At St. John the Baptist Parish the reception of the Sacraments of Reconciliation and First Eucharist both occur in the second grade. Children preparing for these sacraments are expected to attend Mass each week
Sacrament of Confirmation received in 7th grade. The sacrament of Confirmation requires two years of preparation.  Our students begin their preparation in the 6th grade and will  be confirmed in the Spring of  7th grade. Candidates preparing for this Sacrament agree to the covenant as outlined in their "Red Confirmation Folder" received in 6th grade which includes attendance weekly at Mass. 
St. John the Baptist Parish Religious Education Program recognizes and embraces parents in their role as the primary catechists of their children. Canon Law, the law of the Church, states that "parents above others are obliged to form their children in the faith and practice of Christian life by word and example; godparents and those who take the place of parents are bound by an equivalent obligation" (Can. 774).  Both the General Directory and the National Directory for Catechesis echo the same sentiment.  It is our mission to provide catechesis on the Catechism and teachings of the Catholic Church so that your child will be formed in the faith and heritage of authentic Catholicism.  Our program provides children an opportunity to live their faith through catechesis, service, worship, and fellowship, developing and deepening their personal relationship with Our Lord.
Our program embraces all of its children regardless of special need or disability. We will make every effort to accommodate these children and provide them with an inclusive environment in our program. However, in order to provide the best accommodations possible, it may be necessary for the participant to attend another parish program that is better equipped to meet the participant's needs. If your child has a special need or disability you are encouraged to contact our Director of Religious Education, Donna Sciacca at 610-847-5521 or via email at prep@stjohnsottsville.org to discuss your concerns and enrollment options.
__________________________________________________________
Children's Resources 
30th SUNDAY in Ordinary Time, Year A – Gospel of Matthew 22:23-40
Jesus gives us the two Greatest Commandments, they are:
1. "You shall love the Lord your God with all your heart, with all your soul, with
      all your mind and with all your strength." 
2. "You shall love your neighbor as yourself."
Our Prayers
BIBLE STORIES
SAINT STORIES
++++++++++++

++

++++++++++
++++++++++++

++++++++++++
Formative Fiction by Jared Dees
"Beatitales: 80 Fables about the Beatitudes for Children" Purchase Kindle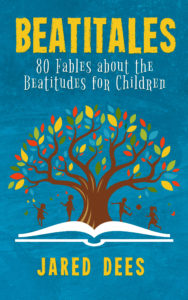 eBook | Purchase Paperback at Amazon.com
"Tales of the Ten Commandments: 50 Fables to Help Children Learn God's Law"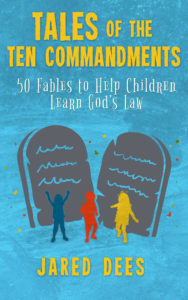 Purchase Kindle eBook | Purchase Paperback at Amazon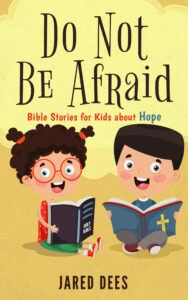 New collection of Bible stories for kids about hope.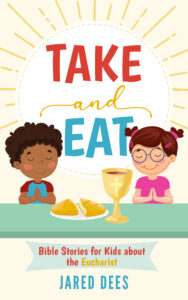 This collection of Bible stories explores the meaning of the Eucharist that we celebrate during the Catholic Mass. Children will explore Old and New Testament stories from the Garden of Eden to the Last Supper, the Resurrection, and the Book of Revelation. Along this journey they will gain a deeper understanding of the Eucharist and the Mass.
 Psalm Stories
++++++++++++
A fun way to  help your child follow along with the Mass each week is to give them a subscription to:  Magnifikid
_________________________________________________________________________
---
For additional information, contact Donna Sciacca, Director of Religious Education at 610-847-5521 or by email at prep@stjohnsottsville.org
---