July 12, 2020 – Fifteenth Sunday in Ordinary Time
Click link below to read Fr. Lucas' and Fr. Tony's weekly Sunday Mass homily:
A

Single-Use

Prayer sheet, and Readings of the Day are available as you enter the church.
Please remember to take these aids with you as you leave Mass today. We appreciate your cooperation, nothing should be left behind in the pews or pew pockets.
If you would like to be included in all parish email communications, please send your name and current email address to:
prep@stjohnsottsville.org – in the email Subject line write, "SIGN ME UP."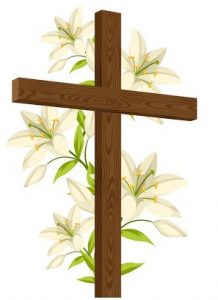 PARISH PRAYER DEVOTIONS 
Wednesday: 8am -Flame of Love Rosary     
Below Weekly Devotions Follow morning Mass:                                                                  1st Friday: Sacred Heart of Jesus             2nd Friday: St. Peregrine                                  3rd Friday: St. Nicholas                                    4th Friday: St. John the Baptist                      5th Friday: St. Joseph
 ⛪__________________⛪
To View a Televised Mass, click on any of the links below:
To make a Spiritual Communion
(pray the prayer below or click on video below)
My Jesus, I believe that You are present in the Most Holy Sacrament.
I love You above all things, and I desire to receive You into my soul.
Since I cannot at this moment receive You sacramentally, come at least spiritually into my heart.
I embrace You as if You were already there and unite myself wholly to You. 
Never permit me to be separated from You.  Amen.
 ⛪__________________⛪
We are grateful, and we Thank you! 
Your weekly Sunday contribution is our only source of income. It is your contributions that sustained us during these difficult times and continues to do so throughout the year..
Our PARISH GIVING online weekly contribution program is simple and secure!  
To sign up today, click the "Parish Giving" tab at the bottom of this page and follow the online screen prompts. If you need assistance with your sign-up, our parish office is here to help. Call 610-847-5521
 ⛪__________________⛪
Wearing a mask in public is now mandatory in our state. Please have your face covering (mask) in place before you enter our church, parish office, or the Lord's Pantry.                              
Parish Office Summer hours: Mon-Thurs 9am-5pm; Fri 9am-1pm.
The Lord's Pantry is operating under normal business hours. Pre-packaged bags of food will be distributed AT THE TABLE OUTSIDE THE ENTRY DOOR only.  No in-pantry shopping is permitted. NO CLOTHING DONATIONS ACCEPTED at this time.
 ⛪__________________⛪
Pray the Divine Mercy Chaplet (recorded at the National Shrine of Divine Mercy) https://youtu.be/p5TGfisOKM
~~~~~~~~~~~~~~~~~~~~~~~~~~~~~~~~~~~~~~~~~~~~~~~~~~~~~~~~~~~~~~~~~~~~~
From the Archdiocese of Philadelphia 

Open Doors Video 
Get a glimpse of the open doors of our local parishes as we welcome everyone back to the public celebration of the Mass. In this video, pastors and parishioners joyfully announce that the doors are open for Mass once again, culminating with a "welcome home" from Archbishop Pérez! All are welcome to use this short video clip to announce the great news that public Masses have resumed in the Archdiocese of Philadelphia the weekend of June 6 and 7.
Open Doors video:  https://vimeo.com/showcase/7201957/video/425185246
Returning to Mass & Instructional Video in American Sign Language: https://vimeo.com/425261211
Instructions from the Diocese for the:  RESUMPTION of Public Mass 
MASS & PARISH LIFE IN THE GREEN PHASE
UPDATE: July 3, 2020 Gov. Wolf's Office mandates Masks be worn in public until further notice.
 ~~~~~~~~~~~~~~~~~~~~~~~~~~~~~~~~~~~~~~~~~~~~~~~~~~~~~~~~~~~~~~~~~~~~~
ADDITIONAL RESOURCES

Sunday, July 19, 6:30-9:30 p.m.
By attending our first-ever free, live streamed Steubenville Adult Conference, you'll be:
Encouraged by our Catholic ministry team: Scott Hahn, Sister Miriam James Heidland, SOLT, Father Dave Pivonka, TOR, and Bob Rice
Uplifted through live praise and worship. Transformed through Eucharistic adoration.
Our in-person Steubenville Adult Conferences may have been canceled this summer, but nothing can stop us from gathering together as one Church. This free event will be an evening of healing and hope that you'll want to share with friends! 
We've streamlined our registration! Just enter your name and email address—that's it. Registering for Night of Hope is fast, easy, and only one click away.
To Register visit Steubenville Conferences at: https://steubenvilleconferences.com/events/night-of-hope/
The Faithful Traveler (an EWTN series) created  videos for the World Meeting of Families on Phila. Shrines and Holy places.You can access on Youtube the following:
~~~~~~~~~~~~~~~~~~~~~~~~~~~~~~~~~~~~~~~~~~~~~~~~~~~~~~~~~~~~~~~~~~~~~
MSC SISTERS COMMUNITY NEWS

Unite with us for NUN RUN 2020

Although we anticipate being together on 9/19/20, we are prepared to be "together apart."

Should circumstances dictate, we will change all registrations to virtual registrations; mail event t-shirts to all registrants and sponsors; ask that you run/walk on your own – but in unity with us – on or around 9/19/20.

Sponsor-ships will be honored as described in the event brochure excluding day-of announcements and signage.

For details and options, visit MSCreading.org now.
~~~~~~~~~~~~~~~~~~~~~~~~~~~~~~~~~~~~~~~~~~~~~~~~~~~~~~~~~~~~~~~~~~~~~
Palisades Community Foundation is offering free cooked meals to anyone

for pickup at Palisades High School on Fridays from 3 pm to 5 pm during the month of May.  There is no other requirement, no age limit, no ID necessary.  Just free prepared food!
This is excellent for elderly, sick, house-bound, people who need a break, or no reason at all.  It is PCFs way of serving the community at a difficult time for everyone.
You must register by each Wednesday

in order for them to know how much to prepare.
Here is the registration form:
You can also go to the PCF  website:
Gerry Gerrantano, St. John's parishioner, is directing the food prep and asked we help spread the word.
Monetary donations are welcome and can be made to the palisades community foundation website.
Tinicum Elementary serves up breakfast & Lunch for all children in our district and surrounding areas. Pre-K to age 18. 
Tinicum has been deemed as an "area eligible site" for food distribution.
FREE breakfast and lunch "to go bags." 11am – 12:30pm Monday, Wednesday, & Friday. On each of these days, breakfasts/lunches will be distributed for the upcoming (off) day. Therefore, on Monday and Wednesday, students will receive 2 breakfasts/lunches, and on Friday, you will receive 3 breakfasts/lunches. 
Please stay in your vehicle when picking up your food items.  
~~~~~~~~~~~~~~~~~~~~~~~~~~~~~~~~~~~~~~~~~~~~~~~~~~~~~~~~~~~~~~~~~~~~~                                                    OUR PARISH MISSION 
We the faithful of St. John the Baptist Parish, in communion with our Pope, Archbishop and Pastor, proclaim that Jesus Christ is the Light of the world. We desire to share His love with everyone in our community through our words and actions.
Through the many gifts we have received from the Father, the Son and the Holy Spirit, we strive to live Gospel values every day of this life in anticipation of the life to come. Our guides for this journey are:
Spirituality: We pledge to honor, obey and worship God in reverent celebration of liturgy, sacrament and prayer.
Personal Development: We proclaim the Good News so that all lives may grow in faith, from the elderly who are our foundation, to the young who are our future.
Community Service: We take up Jesus' call to reach out to

each other through the many talents we are given.

Stewardship: Our response to God's love requires self denial and tithing to enrich the spiritual and physical life of our community.
We pray to the Father, the Son and the Holy Spirit, through the intercession of our patron, St. John the Baptist, that the Word of God continues to be spoken and believed in our countryside, just as it was by the small and courageous community that preceded us more than two centuries ago.
Administered by the MISSIONARIES OF THE SACRED HEART – USA                                       visit us at: misacor-usa.org
---
        INCLEMENT WEATHER ADVISORY
The Parish Office, The Lord's Pantry, and PREP follow the Palisades School District guidelines for inclement weather "Closures and Delayed Opening."
Before heading out in bad weather, call the parish office at 610-847-5521 to verify if we are open.
---


http://www.facebook.com/ottsville
---
ADORATION OF THE BLESSED SACRAMENT
WILL YOU KEEP WATCH FOR ONE HOUR WITH ME?
Adoration of the Blessed Sacrament has been moved to the First Wednesday of each month, 9am – 7pm.
Face covering and social distancing required.
Email Anita Colahan at amcolahan@epix.net if you are available to dedicate one hour a month. Thank you.
View the video Midnight Watch