See our EVENTS page for details regarding our parish March For Live activities.
     January 24, 2021 – SUNDAY of the WORD OF GOD (3rd Sunday in Ordinary Time)
Gospel of Mark 1:14-20 
Click on the links below to read today's homily from Fr. Lucas and Fr. Tony:
Fr. Lucas' Homily: 3rd Sunday of the Year
Fr. Tony's Homily: Year B 3rd Sun OT
* Links to televised Masses below.
THE PARISH OFFICE IS TEMPORARILY

CLOSED TO WALK-IN SERVICES.
Please call 610-847-5521 for service or assistance.
During this period of a rapidly rising cases in the spread of COVID-19, our parish continues to follow the directives from the CDC and our Diocese. We all need to comply with the three recommendations of Sanitation (frequent washing of hands, don't touch your face, mouth, nose, eyes), Distance (social Distance is 6 ft.), Occupancy (we must keep to the recommended capacity for number of people indoors at one time). The adjustments made to our celebration of the Liturgy are to remain in place for now. A mask or face covering is required.The safest way to avoid transmission of germs is through reception of Communion in the hand. No gathering inside the Narthex is still being asked of us. Your cooperation is helping to keep one another safe. Scroll down to the "Archdiocese ARISE" section for the more information.
Daily Mass: Mon. Tues. Wed. & Fri. 9am / Thurs. 9am at Old St. John's Church      Monthly Adoration of the Blessed Sacrament 1st Fridays, following morning Mass,          closing Benediction at 7pm.
WEEKLY PRAYER DEVOTIONS 
THE HOLY YEAR OF ST. JOSEPH (Dec. 8, 2020 – Dec. 8, 2021)                                                      Our parish devotion will begin on Monday, Feb. 1, 2021.  On that day we ask that you please take a St. Joseph prayer card from the table in the rear of the church and carry it with you.  We will honor this Holy Year as follows:                                                                                                               Pray the prayer on the back of the Holy Card before each Mass.                                   Each Wednesday we will pray before the Blessed Sacrament and close our                   morning Mass with Benediction.                                                                                   Our Mass, on the the 19th of every month, will be said in honor of St. Joseph               (Feast of St. Joseph is March 19th) except when it coincides with another Holy day.                                                                                                                                                    Wednesday at 8am: Flame of Love Rosary        
10am Mass on Fridays, following morning Mass, the devotions below are prayed before the                Blessed Sacrament closing with Benediction.
1st Friday: Sacred Heart of Jesus                                                                                                            2nd Friday: St. Peregrine                                                                                                                          3rd Friday: St. Nicholas                                                                                                                          4th Friday: St. John the Baptist                                                                                                                 5th Friday: St. Joseph
 ⛪__________________⛪
* To View a Televised Mass, click on any of the links below:
Cultivating Good Habits When viewing Mass at Home
For those who are live-streaming Mass at home to participate more fully and fittingly, these tips are a great way to help everyone cultivate good habits – and avoid bad habits – by maintaining a level of reverence and engagement in their approach to the Mass even from home. Please consider following this great advice and sharing it with others!
To make a Spiritual Communion
(pray the prayer below or click on video below)
My Jesus, I believe that You are present in the Most Holy Sacrament.
I love You above all things, and I desire to receive You into my soul.
Since I cannot at this moment receive You sacramentally, come at least spiritually into my heart.
I embrace You as if You were already there and unite myself wholly to You. 
Never permit me to be separated from You.  Amen.
 ⛪__________________⛪
We are grateful, and we Thank you! 
Your weekly Sunday contribution is our only source of income. It is your contributions that sustained us during these difficult times and continues to do so throughout the year….
Our PARISH GIVING online weekly contribution program is simple and secure!
To sign up today, click the "Parish Giving" tab at the bottom of this page and follow the online screen prompts. If you need assistance with your sign-up, our parish office is here to help. Call 610-847-5521
⛪__________________⛪
P

arish

R

eligious

E

ducation P

rogram for

 children – Please visit our PREP page on this website or call the parish office more information.
RCIA Weekly Virtual Class – Thursdays, 4pm.  Contact the parish office for more information.
Parish Office Hours:

Mon-Thurs 9am-5pm; Fri 9am-1pm. 
The Lord's Pantry is operating under normal business hours. Pre-packaged bags of food will be distributed AT THE TABLE OUTSIDE THE ENTRY DOOR only.  No in-pantry shopping is permitted.    NO CLOTHING DONATIONS ACCEPTED during the  COVID-19 pandemic.
⛪__________________⛪
FROM THE VATICAN
On Dec. 8, 2020, the 150th Anniversary of the Proclamation of St. Joseph as the Father of the Universal Church...Pope Francis published his Apostolic Letter, "Patris Corde"(click on link at right to read letter) papa-francesco-lettera-ap_20201208_patris-corde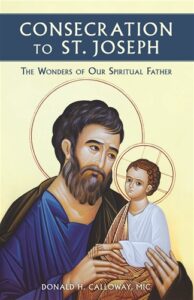 This being the YEAR OF ST. JOSEPH, our Holy Father has called us prayer and to consecrate ourselves to St. Joseph.    Fr. Calloway wrote the "Consecration to St. Joseph" listen to what he has to say by clicking on the video link below.
From the Archdiocese of Philadelphia 

Catholics around the world rejoice over the Holy Father's proclamation of the Holy Year of St. Joseph, which began on December 8, 2020 and ends December 8, 2021.  The entire Archdiocese of Philadelphia is encouraged to spend this year growing closer to St. Joseph by honoring him, imitating his virtues and asking for his intercession.  May this be a year of great grace for all of us as we more deeply entrust ourselves to the care of our spiritual father.  For more information and a list of events, visit www.archphila.org/joseph 
Wed, Jan 20, Wed, Feb 17 and Fri, Mar 19 – 7-8 PM
Event: "Go to Joseph" Talk Series (on Zoom)
Please join us for a special talk series for the Year of St. Joseph by Father Gerald Dennis Gill, Rector of the Cathedral Basilica of Saint Peter and Paul. Discussion and sharing on the topics presented will follow.  We will close by praying the Holy Rosary and the Litany of St. Joseph.
Friday, March 19, 2021 – Time: 8:30-3:30pm
Event: Day of Reflection The Wonders of Our Spiritual Father
Hosted by Malvern Retreat House 315 S. Warren Ave., Malvern Pa 19355 610-644-0400.
Website: www.malvernretreat.com
Cost: $40 On-Site and $25 Virtual

Visit our EVENTS page for UPDATES regarding the Jan. 29th MARCH FOR LIFE.
ADDITIONAL VIDEO RESOURCES
---
For Your Marriage
https://www.foryourmarriage.org/
For Your Marriage helps families become places of prayer and faith and navigate the challenges that come with marriage, parenting, extended family relationships, caregiving, and more. It also provides resources for engaged and newly married couples.
The Faithful Traveler (an EWTN series) created  videos for the World Meeting of Families on Phila. Shrines and Holy places.You can access on Youtube the following:
We the faithful of St. John the Baptist Parish, in communion with our Pope, Archbishop and Pastor, proclaim that Jesus Christ is the Light of the world. We desire to share His love with everyone in our community through our words and actions.
Through the many gifts we have received from the Father, the Son and the Holy Spirit, we strive to live Gospel values every day of this life in anticipation of the life to come. Our guides for this journey are:
Spirituality: We pledge to honor, obey and worship God in reverent celebration of liturgy, sacrament and prayer.
Personal Development: We proclaim the Good News so that all lives may grow in faith, from the elderly who are our foundation, to the young who are our future.
Community Service: We take up Jesus' call to reach out to

each other through the many talents we are given.

Stewardship: Our response to God's love requires self denial and tithing to enrich the spiritual and physical life of our community.
We pray to the Father, the Son and the Holy Spirit, through the intercession of our patron, St. John the Baptist, that the Word of God continues to be spoken and believed in our countryside, just as it was by the small and courageous community that preceded us more than two centuries ago.
Administered by the MISSIONARIES OF THE SACRED HEART – USA                              Visit us at: misacor-usa.org
---
        INCLEMENT WEATHER ADVISORY
The Parish Office, The Lord's Pantry, and PREP follow the Palisades School District guidelines for inclement weather "Closures and Delayed Opening."
Before heading out in bad weather, call the parish office at 610-847-5521 to verify if we are open.
---


http://www.facebook.com/ottsville
---
ADORATION OF THE BLESSED SACRAMENT
WILL YOU KEEP WATCH FOR ONE HOUR WITH ME?
When: First Friday of each month. Opens immediately following morning Mass, approx. 10am and closes with Benediction at 7pm.                                                                                                        Where: In the main church (not in chapel)                                                                                      Required: Face covering and adhere to social distancing in place.
View the video Midnight Watch
Email Anita Colahan at amcolahan@epix.net if you are available to dedicate one hour a month.          Thank you.